Config data: Hi.
I have tried my best for this awesome game, but it still not accurate as call of duty or battlefield config. Maybe I will improve it later.
You can drive the car with arrow buttons and my mouse is set to 1850 dpi.
in game settings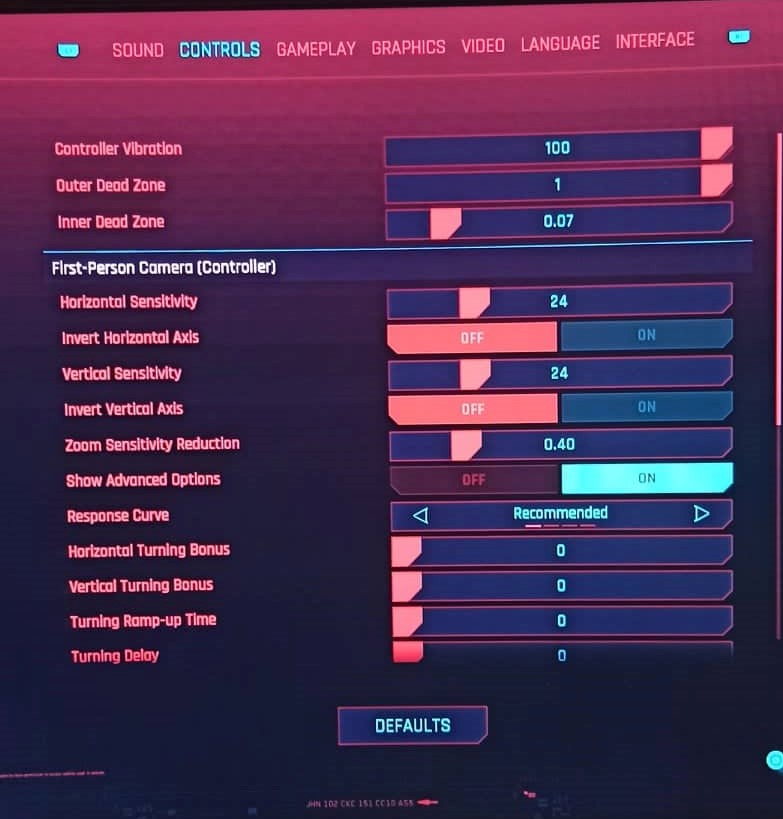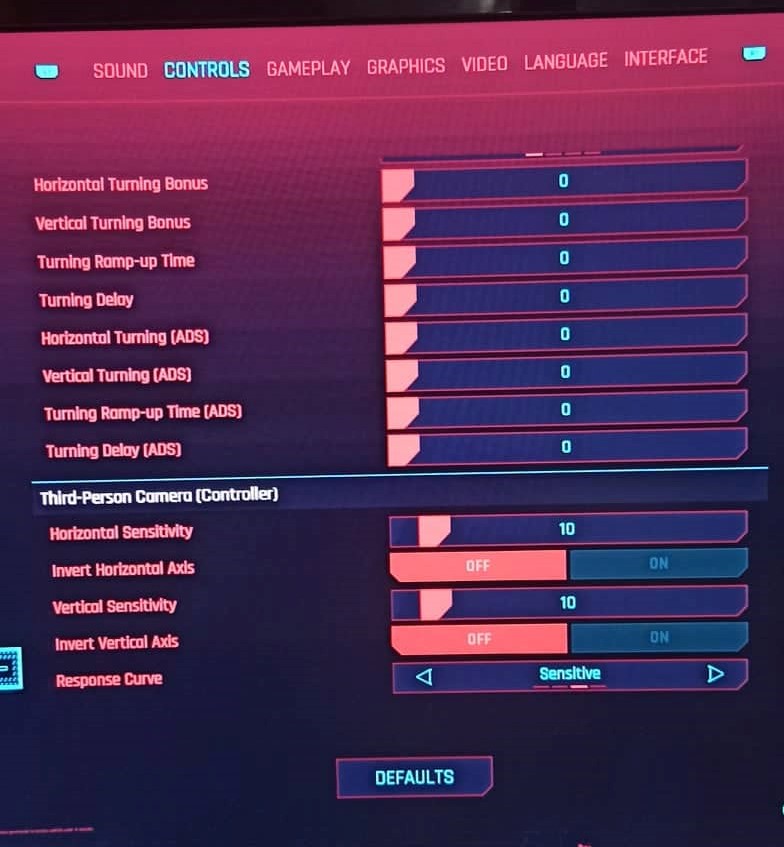 Game: Cyberpunk2077
Platform: PS4
Device: Mouse
Playability: Avarage
note for admins: please use my new psn tag before updating my gamertag. its "SunBroJohnny"
Code: Select all
<?xml version="1.0" encoding="UTF-8"?>

-<root>


-<controller type="DS4" dpi="1850" id="1">


-<configuration id="1">

<trigger type="keyboard" id="0" delay="0" switch_back="no" button_id="EQUALS" name=""/>


-<mouse_options_list>

<mouse id="0" name="" filter="1" buffer_size="1" mode="Aiming"/>

</mouse_options_list>

<intensity_list/>


-<button_map>


-<button id="abs_axis_16" label="">

<device type="keyboard" id="0" name=""/>

<event type="button" id="v"/>

</button>


-<button id="abs_axis_15" label="">

<device type="keyboard" id="0" name=""/>

<event type="button" id="LSHIFT"/>

</button>


-<button id="abs_axis_14" label="">

<device type="mouse" id="0" name=""/>

<event type="button" id="BUTTON_LEFT"/>

</button>


-<button id="abs_axis_13" label="">

<device type="mouse" id="0" name=""/>

<event type="button" id="BUTTON_RIGHT"/>

</button>


-<button id="abs_axis_12" label="">

<device type="keyboard" id="0" name=""/>

<event type="button" id="e"/>

</button>


-<button id="abs_axis_11" label="">

<device type="keyboard" id="0" name=""/>

<event type="button" id="q"/>

</button>


-<button id="abs_axis_10" label="">

<device type="keyboard" id="0" name=""/>

<event type="button" id="r"/>

</button>


-<button id="abs_axis_9" label="">

<device type="keyboard" id="0" name=""/>

<event type="button" id="SPACE"/>

</button>


-<button id="abs_axis_8" label="">

<device type="keyboard" id="0" name=""/>

<event type="button" id="c"/>

</button>


-<button id="abs_axis_7" label="">

<device type="keyboard" id="0" name=""/>

<event type="button" id="1"/>

</button>


-<button id="abs_axis_6" label="">

<device type="keyboard" id="0" name=""/>

<event type="button" id="2"/>

</button>


-<button id="abs_axis_5" label="">

<device type="keyboard" id="0" name=""/>

<event type="button" id="5"/>

</button>


-<button id="abs_axis_4" label="">

<device type="keyboard" id="0" name=""/>

<event type="button" id="4"/>

</button>


-<button id="abs_axis_3" label="">

<device type="keyboard" id="0" name=""/>

<event type="button" id="3"/>

</button>


-<button id="abs_axis_2" label="">

<device type="keyboard" id="0" name=""/>

<event type="button" id="HOME"/>

</button>


-<button id="abs_axis_1" label="">

<device type="keyboard" id="0" name=""/>

<event type="button" id="ESCAPE"/>

</button>


-<button id="abs_axis_0" label="">

<device type="keyboard" id="0" name=""/>

<event type="button" id="BACKSPACE"/>

</button>


-<button id="abs_axis_17" label="">

<device type="keyboard" id="0" name=""/>

<event type="button" id="TAB"/>

</button>


-<button id="abs_axis_12" label="">

<device type="mouse" id="0" name=""/>

<event type="button" id="BUTTON_MIDDLE"/>

</button>


-<button id="abs_axis_8" label="">

<device type="keyboard" id="0" name=""/>

<event type="button" id="LCTRL"/>

</button>


-<button id="abs_axis_14" label="">

<device type="keyboard" id="0" name=""/>

<event type="button" id="UP"/>

</button>


-<button id="abs_axis_13" label="">

<device type="keyboard" id="0" name=""/>

<event type="button" id="DOWN"/>

</button>


-<button id="abs_axis_3" label="">

<device type="mouse" id="0" name=""/>

<event type="button" id="BUTTON_X2"/>

</button>


-<button id="abs_axis_5" label="">

<device type="mouse" id="0" name=""/>

<event type="button" id="BUTTON_X1"/>

</button>

</button_map>


-<axis_map>


-<axis id="rel_axis_3" label="Aiming - y axis">

<device type="mouse" id="0" name=""/>

<event type="axis" id="y" shape="Circle" exponent="0.53" multiplier="8.30" dead_zone="16"/>

</axis>


-<axis id="rel_axis_2" label="Aiming - x axis">

<device type="mouse" id="0" name=""/>

<event type="axis" id="x" shape="Circle" exponent="0.53" multiplier="11.87" dead_zone="14"/>

</axis>


-<axis id="rel_axis_0-" label="">

<device type="keyboard" id="0" name=""/>

<event type="button" id="a"/>

</axis>


-<axis id="rel_axis_1+" label="">

<device type="keyboard" id="0" name=""/>

<event type="button" id="s"/>

</axis>


-<axis id="rel_axis_0+" label="">

<device type="keyboard" id="0" name=""/>

<event type="button" id="d"/>

</axis>


-<axis id="rel_axis_1-" label="">

<device type="keyboard" id="0" name=""/>

<event type="button" id="w"/>

</axis>


-<axis id="rel_axis_0+" label="">

<device type="keyboard" id="0" name=""/>

<event type="button" id="RIGHT"/>

</axis>


-<axis id="rel_axis_0-" label="">

<device type="keyboard" id="0" name=""/>

<event type="button" id="LEFT"/>

</axis>

</axis_map>

<joystick_corrections_list/>

</configuration>


-<configuration id="2">

<trigger type="mouse" id="0" delay="0" switch_back="yes" button_id="BUTTON_RIGHT" name=""/>


-<mouse_options_list>

<mouse id="0" name="" filter="1" buffer_size="1" mode="Aiming"/>

</mouse_options_list>

<intensity_list/>


-<button_map>


-<button id="abs_axis_16" label="">

<device type="keyboard" id="0" name=""/>

<event type="button" id="v"/>

</button>


-<button id="abs_axis_8" label="">

<device type="keyboard" id="0" name=""/>

<event type="button" id="c"/>

</button>


-<button id="abs_axis_12" label="">

<device type="mouse" id="0" name=""/>

<event type="button" id="BUTTON_MIDDLE"/>

</button>


-<button id="abs_axis_16" label="">

<device type="mouse" id="0" name=""/>

<event type="button" id="BUTTON_X1"/>

</button>


-<button id="abs_axis_17" label="">

<device type="keyboard" id="0" name=""/>

<event type="button" id="TAB"/>

</button>


-<button id="abs_axis_0" label="">

<device type="keyboard" id="0" name=""/>

<event type="button" id="BACKSPACE"/>

</button>


-<button id="abs_axis_1" label="">

<device type="keyboard" id="0" name=""/>

<event type="button" id="ESCAPE"/>

</button>


-<button id="abs_axis_2" label="">

<device type="keyboard" id="0" name=""/>

<event type="button" id="HOME"/>

</button>


-<button id="abs_axis_3" label="">

<device type="keyboard" id="0" name=""/>

<event type="button" id="3"/>

</button>


-<button id="abs_axis_4" label="">

<device type="keyboard" id="0" name=""/>

<event type="button" id="4"/>

</button>


-<button id="abs_axis_6" label="">

<device type="keyboard" id="0" name=""/>

<event type="button" id="2"/>

</button>


-<button id="abs_axis_5" label="">

<device type="keyboard" id="0" name=""/>

<event type="button" id="5"/>

</button>


-<button id="abs_axis_7" label="">

<device type="keyboard" id="0" name=""/>

<event type="button" id="1"/>

</button>


-<button id="abs_axis_9" label="">

<device type="keyboard" id="0" name=""/>

<event type="button" id="SPACE"/>

</button>


-<button id="abs_axis_10" label="">

<device type="keyboard" id="0" name=""/>

<event type="button" id="r"/>

</button>


-<button id="abs_axis_11" label="">

<device type="keyboard" id="0" name=""/>

<event type="button" id="q"/>

</button>


-<button id="abs_axis_12" label="">

<device type="keyboard" id="0" name=""/>

<event type="button" id="e"/>

</button>


-<button id="abs_axis_13" label="">

<device type="mouse" id="0" name=""/>

<event type="button" id="BUTTON_RIGHT"/>

</button>


-<button id="abs_axis_14" label="">

<device type="mouse" id="0" name=""/>

<event type="button" id="BUTTON_LEFT"/>

</button>


-<button id="abs_axis_15" label="">

<device type="keyboard" id="0" name=""/>

<event type="button" id="LSHIFT"/>

</button>

</button_map>


-<axis_map>


-<axis id="rel_axis_3" label="Aiming - y axis">

<device type="mouse" id="0" name=""/>

<event type="axis" id="y" shape="Circle" exponent="0.50" multiplier="12.00" dead_zone="7"/>

</axis>


-<axis id="rel_axis_2" label="Aiming - x axis">

<device type="mouse" id="0" name=""/>

<event type="axis" id="x" shape="Circle" exponent="0.50" multiplier="12.00" dead_zone="7"/>

</axis>


-<axis id="rel_axis_0-" label="">

<device type="keyboard" id="0" name=""/>

<event type="button" id="a"/>

</axis>


-<axis id="rel_axis_1+" label="">

<device type="keyboard" id="0" name=""/>

<event type="button" id="s"/>

</axis>


-<axis id="rel_axis_0+" label="">

<device type="keyboard" id="0" name=""/>

<event type="button" id="d"/>

</axis>


-<axis id="rel_axis_1-" label="">

<device type="keyboard" id="0" name=""/>

<event type="button" id="w"/>

</axis>

</axis_map>

<joystick_corrections_list/>

</configuration>


-<configuration id="3">

<trigger type="joystick" id="0" delay="0" switch_back="no" button_id="5" name="PS4 Controller"/>

<mouse_options_list/>

<intensity_list/>

<button_map/>


-<axis_map>


-<axis id="rel_axis_0" label="">

<device type="joystick" id="0" name="PS4 Controller"/>

<event type="axis" id="0" shape="Circle" exponent="1.00" multiplier="0.004" dead_zone="0"/>

</axis>


-<axis id="rel_axis_1" label="">

<device type="joystick" id="0" name="PS4 Controller"/>

<event type="axis" id="1" shape="Circle" exponent="1.00" multiplier="0.004" dead_zone="0"/>

</axis>


-<axis id="rel_axis_2" label="">

<device type="joystick" id="0" name="PS4 Controller"/>

<event type="axis" id="2" shape="Circle" exponent="1.00" multiplier="0.004" dead_zone="0"/>

</axis>


-<axis id="rel_axis_3" label="">

<device type="joystick" id="0" name="PS4 Controller"/>

<event type="axis" id="3" shape="Circle" exponent="1.00" multiplier="0.004" dead_zone="0"/>

</axis>


-<axis id="abs_axis_13" label="">

<device type="joystick" id="0" name="PS4 Controller"/>

<event type="axis" id="4" shape="" exponent="1.00" multiplier="0.008" dead_zone="0"/>

</axis>


-<axis id="abs_axis_14" label="">

<device type="joystick" id="0" name="PS4 Controller"/>

<event type="axis" id="5" shape="" exponent="1.00" multiplier="0.008" dead_zone="0"/>

</axis>

</axis_map>

<joystick_corrections_list/>

</configuration>

</controller>

</root>